Hey everyone! I have been working on this post for a while! I thought with the Holidays approaching I would get it on up in case anyone needs some inspiration! In no particular order…..
Smart Wheels/Friends/Animals by Vtech- We already own three of
these sets and have two more on CK's Christmas list! I have loved Vtech since I was in high school and would babysit my cousins. Their products are not only fun but educational! We did a review on the sets we received for her first birthday here.  The castle and farm are the ones we want next! CK loves the music (that girl can dance to anything) but now she has started saying things like "down" when Norah goes down the elevator or "Doug" when Dr. Doug sings his song (he came with the Check Up Clinic).

2. Vtech Learning Care for Me Learning Center- You already know we love Vtech so there's that reason, b
ut, another reason
this toy is on our list? CK (and most toddlers) LOVE puppies! With living at
my Granny's she gets to be around the dog everyday and loves to pet, kiss, and lay down with the dog. The learning carrier  has buttons on the side that teach your toddler shapes, numbers, colors, and all a
bout their doggie friend!
3. Toddler Rocker By Fisher Price- We actually have had ours since CK was about 7 months, works GREAT as a transition piece! When CK was smaller we would put her in the rocker and LJ could feed her, her bottle. As she has gotten older she LOVES to lounge in it next to her sister or on the rare occasion (this child does NOT like TV) will watch Octonauts in it. Fisher Price makes several different versions, we have the pink but the Diamond style is adorable and less in-your-face baby looking.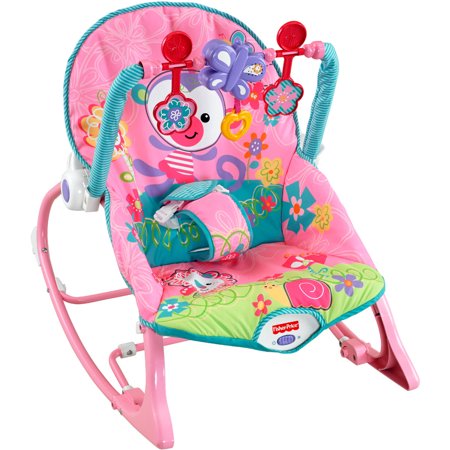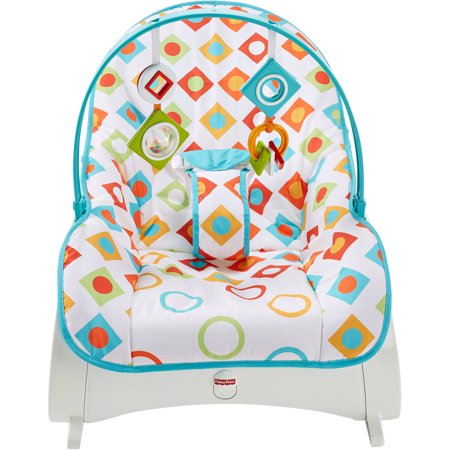 4.  Infantino Go GaGa Block Set- We bought these last year (two sets) for Christmas
and as CK has grown they have become one of her favorite toys. She likes to stack them and kn
ock them down or put them in the storage bins in her cube shelf, then dump them out. My favorite part about these blocks? They are soft, not so soft they don't stack, but like squishy rubber. They don't make noise when they fall down and she can squeeze them.
5. Fisher  Price 3-in-1 Bounce, Stride, & Ride Elephant- This was

a gift for CK's birthday and is an absolute must! It's a transitional toy that goes from 9 months to 3 years! Currently we are in Stride mode because the girls love to play together with it, LJ will push CK on it 🙂 But around Christmas will most likely switch over to the Ride mode. The music is catchy and has Off,Low, and High settings (AMEN for the Honest Mama!) Side note- it is super easy to convert between modes!
6. Kitchen and Accessories- There are several different variations of this, but this is truly one of my favorite gifts to give out girls. Layla got a new one last year for Christmas but now the girls like to play at it together so I am thinking a larger one for their birthday next year, I have my eye on this one. Obviously there are tons of accessories that can go with the kitchen- food, utensils, dishware, cookware, cleaning stuff. My favorite sets we have are actually from Ikea, they are more kid friendly (felt made and actually do things like come apart). Our kitchen is similar to the one below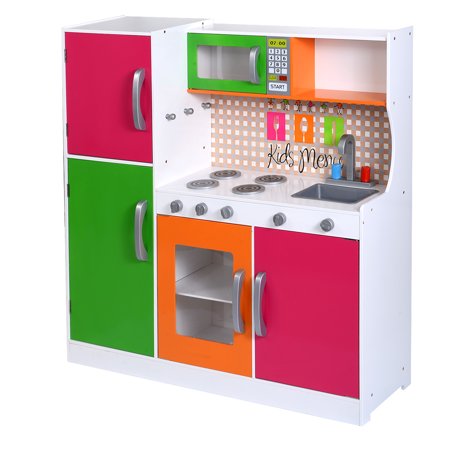 7.  Fisher Price Stroll Along Walker or Little Tikes Shopping Cart– We had the Cart for LJ
who loved taking things in and out of the cart (faux food or real food haha). But with CK we are going for the stroller because everything is her "baby" and she likes to take care of her babies- holding them, patting their back, and making them go "nigh nigh." The cart is also great because it can be used in conjunction with the kitchen!
8. Leapfrog Shapes and Sharing Picnic Basket–  We have had this toy with both girls and it
is one of the favorites by hubs and I.  The basket has everything to have a picnic and you can chose what the basket says- either shapes or songs. CK's favorite thing to do is put each piece back in so she sings and then take them back out. Plus, all the pieces fit right back in it-you know Honest Mama LOVES things that organize themselves haha!
9. Melissa and Doug Puzzles- Honestly, I never thought about this until a few weeks ago when we took CK to LJ's Friday night dance class. The waiting area had about 8 of these and she fell in love ❤   She liked me telling her the animals and making the animal noises at her and if she recognized the animal she would find it if I told her and put it back down! Definitely on our list for her now for some of her own. Layla had the sound Alphabet one as a toddler and played with it everyday, I truly believe that why she knew the whole Alphabet so quick! Below are a few I liked!
10. Vtech Alphabet Apple- When we went to Walmart recently I saw this and recognized that it was a similar toy to one we had with LJ, bringing back memories of how much she loved it. We were big on teaching LJ her ABC's at a young age-between the Melissa and Doug Puzzle above and  this product, it was a breeze. The toy does all sorts of stuff too besides letters: numbers, time, memory, counting, sure to give you at least 20 minutes of peace :*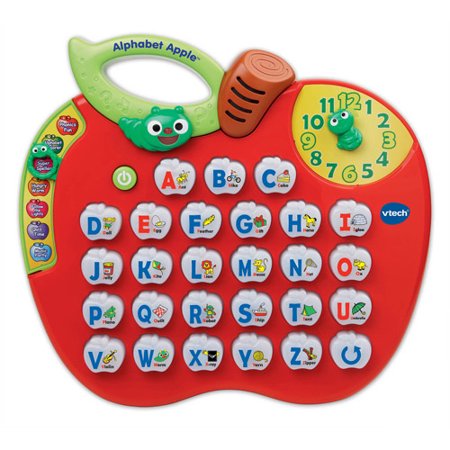 If you have any questions or any of your own favorite toys, drop them in the comments section!
XOXO.
L.